Noxion LED Batten Waterproof Pro 120cm 4000K 4000lm | Through Wiring - Emergency Unit 1H - Replaces 2x36W
Sold out. See alternative product
See now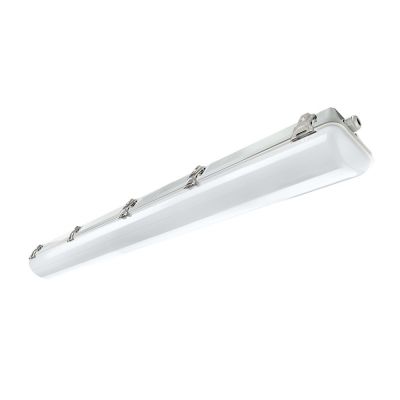 Specifications
Noxion LED Batten Waterproof Pro 120cm 4000K 4000lm | Through Wiring - Emergency Unit 1H - Replaces 2x36W
Description
Noxion LED Batten Waterproof Pro 120cm 4000K 4000lm | Through Wiring - Emergency Unit 1H - Replaces 2x36W
Advantages :
Energy efficiency class A
Up to 50% energy savings
Average lifespan : 50,000 hours
No loss of brightness
IP66 - waterproof
IK 08 - protected against shocks and impacts
Through wiring included
Color temperature : Cool White
Flicker-free
Emergency lighting : 1 hour
5 years warranty
Energy efficiency class A
Thanks to its high class, this LED batten allows to save a lot of energy. This will allow the user to reduce the consumption and the impact on the planet.
Up to 50% energy savings
Nowadays, the most modern LED technology allows energy savings up to 50% compared to older luminaires. A fluorescent fixture with two tubes of 36 watts, for instance, consumes 72 watts, to which must be added 8 watts for the energy consumption of the ballast. Overall, a fluorescent fixture with these features consumes 80 watts. This LED batten consumes only 38 watts, saving up to 50% of energy costs.
Average lifespan : 50,000 hours
The lifespan of a fluorescent tube is approximately 20,000 hours. The lifespan of this LED lighting product can go up to 50,000 hours. If we do a simple calculation: your light is switched on 12 hours a day, 5 days a week, which brings to a total of 60 hours a week. 60 hours x 52 weeks = 3120 hours a year. It will take you more than 15 years to reach 50,000 hours!
No loss of brightness
With traditional tubes, the brightness is reduced after about 10,000 hours of use. Noxion LED products are guaranteed with no loss of brightness. Indeed, they conform to the European directives and are built with very high quality materials.
IP66 - waterproof
This lighting is suitable for outdoor environments thanks to the high degree of protection against dust and water jets. More precisely, the first number indicates the degree of protection against the entry of solid bodies, from 0 to 6 at most. The second figure concerns the protection against the entry of liquid substances, which can vary from 0 to 8.
IK 08 - protected against shocks and impacts
The IK code of this product (shown on a scale of 1 to 10 at most) ensures this LED light has a good protection against vandalism or accidental damage, thus, extending the lifespan of the product.
Through wiring included
Thanks to the through wiring, it is possible to connect several luminaires in series to illuminate very large spaces, facilitating the installation of important lighting systems.
Color Temperature: Cool White - 4000 K (Kelvin)
The color temperature 4000 K corresponds to cool white. This color is used in productive environments. This color will keep you awake and focused.
Flicker-free
This LED light is flicker-free. Some people are very sensitive to the glare produced by traditional fluorescent tubes, which can cause side effects such as headaches. A fluorescent tube flickers about 50 times per second; Although this is not noticeable to the naked eye, your brain is very sensitive and detects these flickers. This flicker-free solution will allow you to light a room and stay several hours without any inconvenience.
Emergency lighting: 1 hour

This product has a built-in backup module that guarantees lighting autonomy even in the absence of electricity for one hour.
5 years warranty
Thanks to the composition and the high quality materials used, Noxion is able to provide you with a 5 year warranty for this LED batten.
Do you have questions about the information above ? Do not hesitate to contact our team of specialists.
Reviews
No reviews for this product yet
Need help?
Contact our light specialists for free advice.