Noxion LED Panel Louvre 60x60cm 4000K UGR<15 | Cool White - Replaces 4x18W
Sold out. See alternative product
See now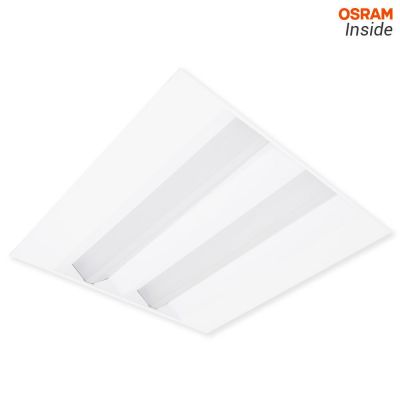 Specifications
Noxion LED Panel Louvre 60x60cm 4000K UGR<15 | Cool White - Replaces 4x18W
Description
Noxion LED Panel Louvre 60x60cm 4000K UGR<15 | Cool White - Replaces 4x18W
Noxion LED Proled recessed fixture
Product description:
The Noxion LED Proled recessed fixture has been specifically designed for use in environments such as; offices, conference rooms, shopping malls, libraries, hospitals, clinics and schools. Due to a very low glare factor / Unified Glare Ratio (UGR) of 18 and below. Conventional TL-D fixtures can be replaced directly by the Proled fixture. This can help you save up to 50% on your energy costs.
Components:
During the product development process the focus was placed on aspects such as design, quality and durability. To reduce the risk of corrosion and abrasion anodized aluminum is used within the fixture. This is also of great importance for heat dissipation, and thermal management. This is essential in order to ensure that the LED chips have optimum efficiency of luminous flux over their lifetime. In addition, the micro-prismatic diffuser ensures a uniform and pleasant light. This fixture includes a high quality driver and premium LED chips (in accordance with LM80). In addition, it is easy to install. The Led Proled fixture comes standard with a GST18 i3 connector.
Optional:
Color (CCT):
Service:
Due to an excellent composition of components Noxion has been able to provide you with a 5 year guarantee for this LED fixture. Do you have any questions after reading the above information, please do not hesitate to contact one of our advisors.
Reviews
No reviews for this product yet
Need help?
Contact our light specialists for free advice.