Philips LEDspot LV GU5.3 MR16 8W 827 36D (MASTER) | Extra Warm White - Dimmable - Replaces 50W
Sold out. See alternative product
See now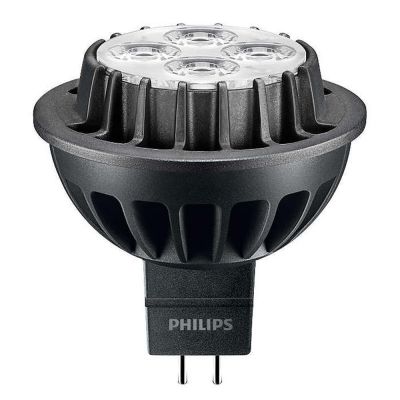 Alternatives

Specifications
Philips LEDspot LV GU5.3 MR16 8W 827 36D (MASTER) | Extra Warm White - Dimmable - Replaces 50W
General Information
SKU
219748
Manufacturer Name
MAS LEDspotLV D 8.0-50W 827 MR16 36D
Quantity recommended
10

i

By purchasing the quantity recommended, your products will come as packaged by the manufacturer.

Any Lamp all-in warranty
5 Years
Energy efficiency class
A+
Average Lifetime (h)
40000
Sensor Included
No

i

A light with a sensor can turn on automatically. Depending on the sensor it has, this can be whenever it detects motion or a lack of light, or both.
Technical Information
Technology
LED
Replaces (Watt)
50
Wattage
8
Voltage (V)
12
Dimmable
Yes
Cap / Base
GU5.3

i

The cap/base of a bulb is the part that connects it to the socket in the fixture. In Ireland, B22 (Bayonet) caps/bases are still the most popular, although E27 (Edison screw) caps/bases are becoming increasingly popular. GU10 is the most common cap/base for spotlights. Check which cap/base you need carefully as many other types are also available.

Colour temperature (Kelvin)
2700K - Extra Warm White

i

The colour temperature refers to the colour produced by a light. It's measured in Kelvin (K) and ranges from warm white (1700K - 3000K) to daylight white (6500K). Neutral white (3100K - 5000K) is mainly used for general lighting applications.

Colour Code
827 - Extra Warm White

i

The colour code is a combination of the colour rendering index (CRI) and the colour temperature (K). The first number refers to the CRI (1 = very poor colour rendering, 9 = maximum accuracy). The second and third numbers refer to the colour temperature. For example, a light with a colour code of 830 has very good colour rendering and produces a warm white light.

Colour Rendering (Ra)
80-89

i

The colour rendering index (CRI) indicates how accurately colours are represented under a beam of light. The index goes from 1 to 99, with a CRI of 1 being the poorest and a CRI of 99 being the best possible. Be careful not to confuse colour rendering with colour temperature (K).

Light Output (Lumen)
635

i

Lumen (lm) is the term used to describe the total amount of visible light emitted by a light source. The higher the number of lumens, the brighter it is.

Beam Angle (degree)
36
Luminous Efficacy (Lm/W)
80
Dimensions
| | | |
| --- | --- | --- |
| Height (mm) | 55 | |
| Diameter (mm) | 51 | |
| Shape | Spot | |
| Exact shape | MR16 | |
Reviews
No reviews for this product yet