Philips LEDtube HF 10.5W 830 60cm (MASTER) | Warm White - Replaces 18W
Sold out. See alternative product
See now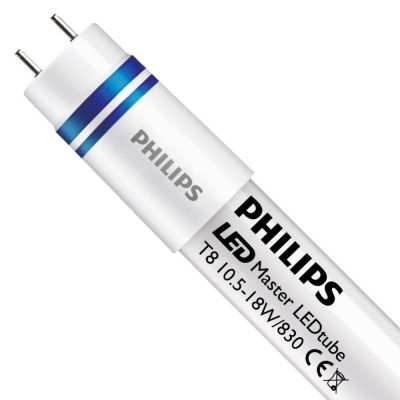 Specifications
Philips LEDtube HF 10.5W 830 60cm (MASTER) | Warm White - Replaces 18W
Description
Philips LEDtube HF 10.5W 830 60cm (MASTER) | Warm White - Replaces 18W
The Philips MASTER LEDtube HF 600mm 10.5W 830 T8 is the perfect 18W replacement fluorescent tubes in a fixture with an electronic ballast (recognizable by the fact that the fixture has no starter). You immediately save 42% on your energy costs after replacement.
This LED TL is suitable for use in offices, warehouses and other business premises. The light color is warm white (also known as 3000 Kelvin or color code 830). This lamp has a high lumen output, so you are assured of the same amount of light as you now have with a standard fluorescent lamp. This LED TL switches on immediately without blinking or start-up time. The tube has a length of 60cm, equivalent to your current 18W TL.
The lifetime of a Philips MASTER LED tube HF 600mm 10.5W 830 T8 is 5 times longer than a standard TL (50,000 hours compared to 10,000 hours with a normal TL). In a practical situation this means a lifetime of more than 16 years. Of course you have 5 years Any-Lamp All-in warranty on this product, this ensures you top quality and you can easily earn your investment back.
Replacing the Philips MASTER LEDtube HF 600mm 10.5W 830 T8 is easy:
Turn off the power
Turn the old TL out of the fixture
Turn the InstantFit LED tube into the fixture
Turn on the power and immediately save 42% energy
Reviews
No reviews for this product yet
Need help?
Contact our light specialists for free advice.