Philips LEDtube HF 10.5W 840 60cm (MASTER) | Cool White - Replaces 18W
Sold out. See alternative product
See now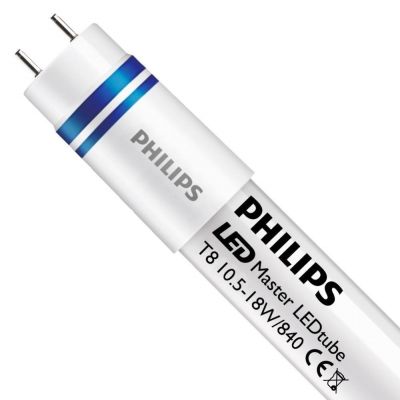 Specifications
Philips LEDtube HF 10.5W 840 60cm (MASTER) | Cool White - Replaces 18W
Description
Philips LEDtube HF 10.5W 840 60cm (MASTER) | Cool White - Replaces 18W
This LED tube Philips HF is the ideal alternative to replace the conventional tubes T8 with a G13 socket in electronic control gear (CCG) fixtures. Suitable for general applications in the industrial domain, with its unique design, this LED tube of 60cm creates a perfectly uniform visual appearance which cannot be distinguished from a traditional fluorescent tube of 18W and delivers a cool white (4000K) colour which gives off a bright amount of white light. Thanks to the integrated LED technology, which provides these LED products of a long lifetime up to 50,000 hours (5 years), you benefit up to 70% saving on your energy and maintenance costs.
Reviews
No reviews for this product yet
Need help?
Contact our light specialists for free advice.