Sylvania LED Spot GU10 6.5W 827 40D 500lm | Dimmable - Extra Warm White - Replaces 70W
Sold out. See alternative product
See now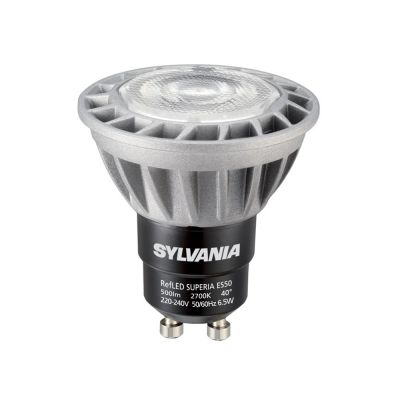 Specifications
Sylvania LED Spot GU10 6.5W 827 40D 500lm | Dimmable - Extra Warm White - Replaces 70W
Description
Sylvania LED Spot GU10 6.5W 827 40D 500lm | Dimmable - Extra Warm White - Replaces 70W
The Sylvania LED Spot GU10 6.5W 827 40D 500lm | Dimmable - Extra Warm White - Replaces 70W is the perfect replacement for a conventional 70W GU10 halogen bulb that has an 827 - Extra Warm White colour code. This LED spotlight bulb has a diameter of 50 mm and its two pins are 10 mm apart. The bulb works with 230V and does not require a transformer. Switching to LED offers many advantages!
The advantages of this Sylvania GU10 LED bulb:
You can save up to 90% in energy and maintenance costs due to the low energy consumption of 6.5W and the long lifetime of 25000 hours. By comparison, traditional GU10 halogen bulbs only last 2000 hours. LED lighting doesn't produce much heat or emit any UV radiation. Installing the LED spotlight bulb is very simple: turn the old GU10 bulb by 90 degrees and remove it from the socket. Then insert your new LED GU10 bulb into the socket and turn it by 90 degrees in the other direction to secure it in place. This Sylvania product is high quality and the price starts from as low as (excl. VAT) depending on how many bulbs are purchased. For extra peace of mind, this product is also covered by our Any-lamp.ie all-in-warranty of .
Reviews
No reviews for this product yet
Need help?
Contact our light specialists for free advice.