Sylvania T5 FHE Luxline Plus 14W 827 | 55cm - Extra Warm White
Sold out. See alternative product
See now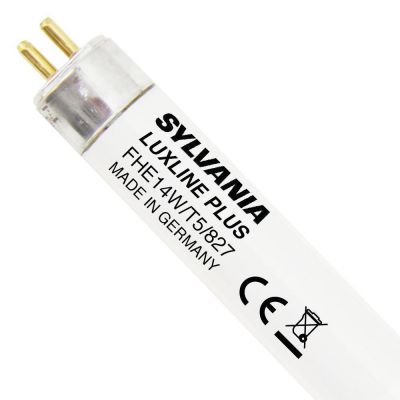 Specifications
Sylvania T5 FHE Luxline Plus 14W 827 | 55cm - Extra Warm White
Description
Sylvania T5 FHE Luxline Plus 14W 827 | 55cm - Extra Warm White
Sylvania T5 FHE 14W/827 G5 Luxline Plus Homelight Deluxe at low prices! Enjoy Sylvania's quality with enormous discount for large quantities. Express delivery, please, don't hesitate to contact us!
Characteristics of Sylvania T5 FHE 14W/827 Luxline Plus Deluxe
The Sylvania T5 FHE Luxline Plus is fluorescent lamps with high luminous efficiency but low energy consumption. With very small diameter (16 mm), they have varied intensity. The lamps of the range work on electronic ballast. They measure 549 mm and have G5 holder type. The Sylvania T5 FHE 14W/827 G5 Homelight Deluxe will offer first class quality light with his color rending index greater than 80Ra. The emitted light is warm: 2700K. The lamps have energy etiquette class B. Their average lifetime is 10000 hours which is very long. Then, they allow to make an important energy saving.
Using
The lamps Sylvania T5 FHE 14W/827 G5 Luxline Plus are perfectly adapted to supermarkets, shops, factories, workshops, areas storage, offices, schools or hospitals.
Reviews
No reviews for this product yet
Need help?
Contact our light specialists for free advice.