Sylvania T5 FHE Luxline Plus 21W 827 | 85cm - Extra Warm White
Sold out. See alternative product
See now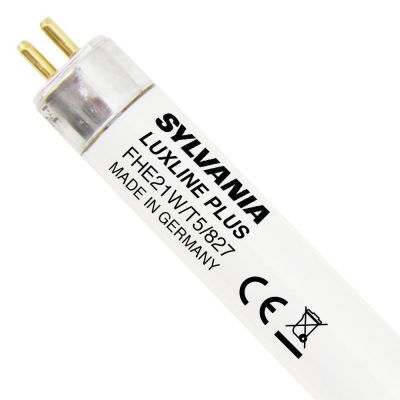 Specifications
Sylvania T5 FHE Luxline Plus 21W 827 | 85cm - Extra Warm White
Description
Sylvania T5 FHE Luxline Plus 21W 827 | 85cm - Extra Warm White
Sylvania T5 FHE 21W/827 G5 Luxline Plus Homelight Deluxe at unbeatable price. Customer service for helping! Important discount for large quantities! Please, contact us!
Characteristics
The Sylvania T5 FHE Luxline Plus is fluorescent lamps with very small diameter: 16mm. Their wattage is weak so they use less energy while providing a high luminous flux. These lamps are compatible with electronic ballast. Each fluorescent lamp of the range have G5 type socket. they have size of 849mm. Les Sylvania T5 FHE 21W/827 G5 Luxline Plus Deluxe spread a very warm light with a color temperature of 2700K. Moreover, the color rending index is excellent, greater than 80Ra. The range has energy etiquette class A, therefore, they are thrifty in energy. Their lifetime duration is about 24000 hours.
Using of Sylvania T5 FHE 21W/827 G5 Luxline Plus
Suitable for general lighting as well as for functional lighting, the Sylvania T5 FHE 21W/827 G5 Homelight Deluxe can be used by various ways. They are totally appropriate in for using in shops, supermarkets, offices, schools, public spaces, workshops, factories and warehouses.
Reviews
No reviews for this product yet
Need help?
Contact our light specialists for free advice.