Sylvania T5 FHE Luxline Plus 35W 835 | 145cm - Cool White
Sold out. See alternative product
See now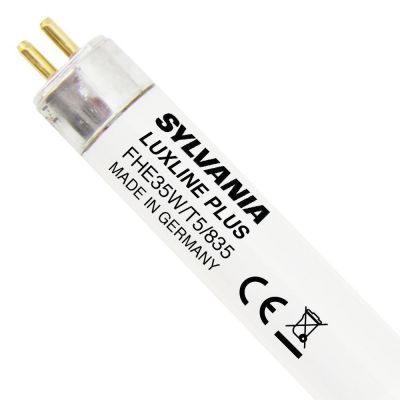 Specifications
Sylvania T5 FHE Luxline Plus 35W 835 | 145cm - Cool White
Description
Sylvania T5 FHE Luxline Plus 35W 835 | 145cm - Cool White
Sylvania T5 FHE 35W/835 G5 Luxline Plus White Deluxe at the lowest prices. Buy Sylvania's quality products and take advantage of enormous discounts for large quantities! Fast delivery; please feel free to contact us!
Characteristics
The Sylvania T5 FHE Luxline Plus lamps are fluorescent lamps which are more efficient than standard T5 lamps. They have small diameter of 16mm for small-scale applications and are characterized by a very high luminous flux. They are used on electronic ballast. Each lamp of the range has G5 holder. They have size of 1449mm. the Sylvania T5 FHE 35W/835 G5 Luxline Plus White Deluxe spread a light of color temperature of 3500k which corresponding to neutral light. Moreover, the color rending index is excellent, greater than 80Ra. The range has an energy etiquette classified A, therefore, they are thrifty. Their life duration is very long, 24000 hours on average.
Using of Sylvania T5 FHE 35W/835 Luxline Plus Deluxe.
The Sylvania T5 FHE 35W/835 G5 White Deluxe lamps are commonly used in shops, supermarkets, workshops, or factories as general lighting. They are also used in offices, schools, hotels
Reviews
No reviews for this product yet
Need help?
Contact our light specialists for free advice.