Sylvania T8 Luxline Plus F36W 835 | 120cm - Cool White
Sold out. See alternative product
See now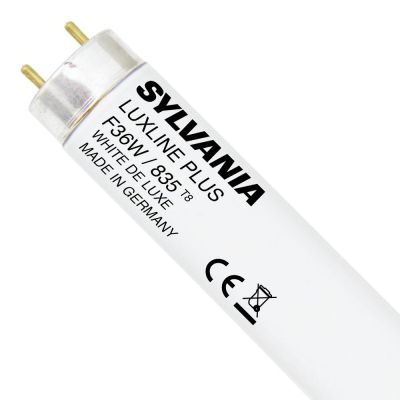 Specifications
Sylvania T8 Luxline Plus F36W 835 | 120cm - Cool White
Description
Sylvania T8 Luxline Plus F36W 835 | 120cm - Cool White
Sylvania T8 F36W/835 G13 LuxLine Plus White Deluxe at bargain prices! Products sent quickly. The Sylvania quality in large quantities at significant discounts! Contact us !
Presentation
Sylvania T8 F36W / 835 G13 White Deluxe Sylvania T8 Lamps More Luxline are fluorescent tubes diameter 26mm. They replace TL tubes standard T8 color. These tubes provide 30% more light for the same amount of energy compared to standard T8 lamps. The Sylvania T8 F36W / 835 G13 Luxline plus White Deluxe have a G13 socket and measure 1200 mm. They spread light with a color temperature of 3500K, which corresponds to a neutral light. The color rendering index is also excellent, above 80Ra. The tubes have rated energy etiquette A. Their lifetime is very long, averaging 20000 hours. They therefore allow you to realize significant energy savings.
Use
Sylvania T8 lamps F36W / 835 G13 White Deluxe are ideal for lighting shops, offices, schools, supermarkets, as well as in workshops, factories, warehouses, storage areas, industrial sites, etc.
Reviews
No reviews for this product yet
Need help?
Contact our light specialists for free advice.