Sylvania ToLEDo EM Superia 32W 840 150cm | Cool White - incl. LED Starter - Replaces 58W
Sold out. See alternative product
See now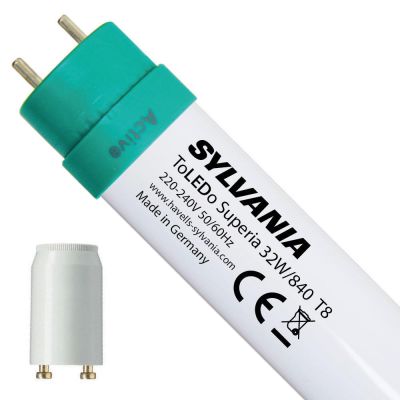 Specifications
Sylvania ToLEDo EM Superia 32W 840 150cm | Cool White - incl. LED Starter - Replaces 58W
Description
Sylvania ToLEDo EM Superia 32W 840 150cm | Cool White - incl. LED Starter - Replaces 58W
The Sylvania ToLEDo Superia of 150cm is ideal to replace a fluorescent tube T8 (G13 socket) of 58W in a fixture with conventional ballast (ferromagnetic). Built in a very resistant glass, This LED tube looks like a traditional tube and gives a warm cool light (4000K). It has a CRI (Colour Rendering Index) of 80, which guarantees a high-quality color rendering. Designed for outside lighting in a waterproof fixture, it can be used to light in hospitals, logistic, industry. Besides, this product has high resistance to switching cycles so that it has a high energy consumption label. This Sylvania LED tube has an average lifetime of 50000 hours.
Reviews
No reviews for this product yet
Need help?
Contact our light specialists for free advice.